Current Students
Explore the resources available below to help you make the most of your time in VCU's interdisciplinary science program.
Popular Pages
Review scholarships and awards available to students in the interdisciplinary science program and through the College of Humanities and Sciences.
Find out how to meet prerequisites and other requirements for graduate or professional-level programs in medicine, pharmacy, dentistry, physician assistant studies and more.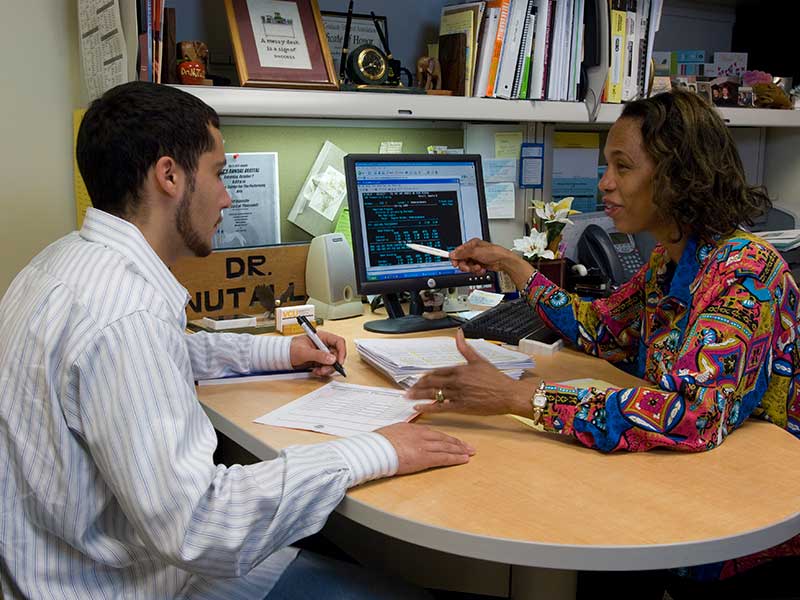 Academic Advising
Interdisciplinary science advisers are committed to helping you succeed. We strongly recommend each student meets with an adviser prior to registration every semester to ensure accurate course selection and timely progress toward graduation. Schedule an appointment or explore below to learn more about advising.
I want to...
Find my adviser
Advisers for interdisciplinary science majors vary by level. Find your adviser below.
First-Year Students
All first-year students who have declared science as their major are advised by University Academic Advising.
1st Floor, Hibbs Hall
900 Park Ave.
Richmond, VA 23284
(804) 827-8648
Sophomore, Junior and Senior Science Majors
Sophomores, juniors and seniors who are in the biology, chemistry and professional science concentrations are advised by Charlene Crawley, Ph.D., director of the interdisciplinary science program, and Kim Hasley, interim adviser for the interdisciplinary science program.
Note: Sophomores, juniors and seniors who are in the physics concentration should first consult with faculty in the Physics Department.
Sophomores, Juniors and Senior Science Majors in Pre-Health Advising Tracks
Sophomores, juniors and seniors who are in pre-health advising tracks are advised by Seth Leibowitz, Ed.D., executive director, health sciences programs and advising.
Ready to meet with your adviser?
Prepare to meet with my adviser
For each advising appointment, we ask that you:
Be punctual; please be respectful of your adviser's and fellow students' time
Come prepared (bring note-taking materials, printed forms to be signed or submitted, V-number, etc.)
Know what you want to accomplish (come ready with questions)
Turn cell phones off or to silent
Learn how my adviser helps me
Your adviser can support you throughout your academic career by:
Explaining the university's curriculum, requirements, policies and procedures when needed
Encouraging and guiding you to define and develop realistic education goals
Assisting you with planning programs consistent with your abilities and interests
Listening carefully to questions, concerns and confusions
Apprising you of available resources and job and internship opportunities
Reviewing your degree progress
Discussing the relationship between academic preparation and the work world
Informing you about relevant information concerning the degree program
Read tips on academic success
As an interdisciplinary science student, you have a continuous, active role in your academic planning and tracking process.
Throughout your academic career, you must:
Become knowledgeable about college programs, policies, schedules and deadlines, and procedures
Clarify your personal values and goals
Participate proactively in the decision-making process
Review your degree audit prior to each advising appointment
Follow through on suggested actions, resources and referrals
Keep a personal record of academic progress
Accept responsibility for academic decisions and performance
Check student email regularly and be professional when communicating with faculty, advisers and staff through email
Review graduation requirements
To graduate, students must:
Pass a total minimum of 120 semester hours
Obtain at least 45 upper-level credits
Achieve a cumulative GPA of 2.0 or greater
There are no exceptions to these requirements.